SHIFT Shelf by Facture Studio
W 12" x H 12" x L 60" 
W 30.5 x H 152.4 x L 30.5 cm 
Constructed from resin and wood, the shelf features shifting color from a dark opaque to clear green as the eye moves its gaze along the saturation shift.
Contact gallery for customization information and color options.
See our shipping policies. For quotes, please contact us. 
. . .
Facture Studio is a contemporary art furniture company headed by designer, Quincy Ellis. Based in Brooklyn, his dynamic molded works use resin to experiment endlessly with light, color & transparency. The exploration of these three concepts is central to all of the brand's work, constantly refining its designs by changing colors, shades, shift patterns, opacities & interior core colors.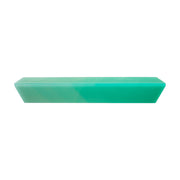 SHIFT Shelf