Tube Console by Facture Studio
Resin, Steel, Aluminum

W 16" x H 34.50" x L 60"
W 
40.6
× H 87.63
× L
152.4
cm
Inspired by the first Facture Blue Console, the Tube Console has transparent blue resin around a light blue core but in this iteration the core cuts through the resin slab, physically sinking into the transparent outside and pushing through on the interior. The tubes effortlessly support this transparent surface with their hidden structures.
Item available for immediate delivery.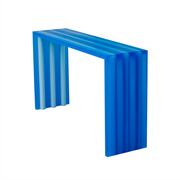 Tube Console