Plato Arriba Pendant Lamp
Plato Arriba by Maria Beckmann
2019
Pendant Lamp
W 15.7" x H 3.1" x D 15.7"
W 40 x H 8 x D 40 cm 
Beckmann's use of reflective metal in Plato Arriba Pendant Lamp makes it so light will refract in captivating ways across any space the lamp is placed in.
Pictured: Solid copper with satin finish. 


Plato Arriba is available in multiple dimensions and materials:
Metal Body:

  S

olid copper, Solid brass, or Solid nickel plated brass.
Metal Finish: Satin polished or Gloss polished.
Wood canope: walnut, ash or tzalam wood. Finished with matte varnish
Sizes:

 

Plate:

W 15.7" x H 3.1" x D 15.7"/ W 40 x H 8 x D 40 cm 

W 23.6" x H 4.7" x D 23.6"/ W 60 x H 12 x D 60 cm 
W 31.5" x H 6.3" x D 31.5"/ W 80 x H 16 x D 80 cm 
The lead time for this item is 6-8 weeks. See our shipping policies. For shipping quotes and custom inquiries, please contact us.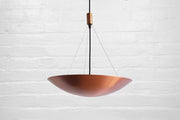 Plato Arriba Pendant Lamp