Clasica a Muro by Maria Beckmann.
Wall Lamp
2019
Beckmann's use of reflective metal in Clasica a Muro makes it so light will refract in captivating ways across any space the lamp is placed in.

Pictured:  Solid copper in a satin finish with tzalam wood.
Clasica a Muro is available in multiple dimensions and materials:
Metal Body:

  

solid copper, solid brass, or solid nickel plated brass.
Metal finish: satin polished or gloss polished.
Wood: walnut, ash or tzalam wood finished in matte varnish.
Size: W 7.9" x H 6" x  D 7.9" / W 20 x H 15.3 x 20 cm
Dome Size: W 7.9" x H 3.9" x D 7.9" / W 20 x H 10 x D 20 cm 
Lead time for this item is 4-8 weeks.
All sales are final.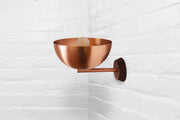 Clasica a Muro